TotallyMoney's seasonal social media brand awareness campaign.
What was this project about?
The brief was to produce a seasonal ad campaign for TotallyMoney's services (credit score and credit products) for brand building.
One of the main challenges when creating an advertisement is to ensure that it does not exceed a maximum duration of 8 seconds. In addition, it is important to convey one clear message per ad to avoid overwhelming the audience. To ensure consistency with the new brand style, the visual design and illustrations should also be carefully crafted to fit with the overall branding.
The Design and Marketing teams worked closely together to bring this campaign to life. The result was a series of static and motion ads for use on Facebook and Instagram to build brand awareness and bring traffic to the TotallyMoney website.

The ads launched in December 2019 and and saw a very positive response with a 20% increase in engagement from previous ads, and hitting the internal targets for CTR.
My Role
Creative lead

Motion design

Visual design
Tools
Sketch

Photoshop

After Effects

Pen & paper
I led several ideation workshops including colleagues from design, copy and marketing to brainstorm ideas. Collaborating closely with this talented team, we were able to identify key messages and themes that would resonate with our target audience and bring a fresh and exciting spin to our seasonal campaign.​
After careful consideration, three standout ideas were selected to move forward in the process. These versions were chosen for their potential to effectively convey the desired message and connect with our target audience. I then began the process of storyboarding and creating visual mockups to further refine and develop these ideas.
After the marketing manager approved the messages and storyboards, I instructed our external illustrator to create customized illustrations in line with our brand style. Once we received the illustrations, I integrated them using After Effects to incorporate motion. These are the final versions that were released in December 2019.
At this stage, detailed storyboards were drawn up and once the messaging and visual themes were signed off by the marketing manager, I instructed our external illustrator to create customised illustrations in line with our brand style. The motion ads were finally brought to life in After Effects, and the campaign launched in December 2019.
Your credit score can enable a Christmas of treats. The credit score transforms into a festive pudding.
Products to ease the pressure of holiday costs. Gifts and tree emerge from the card.
Products to ease the pressure of holiday travel costs. Train emerges from card.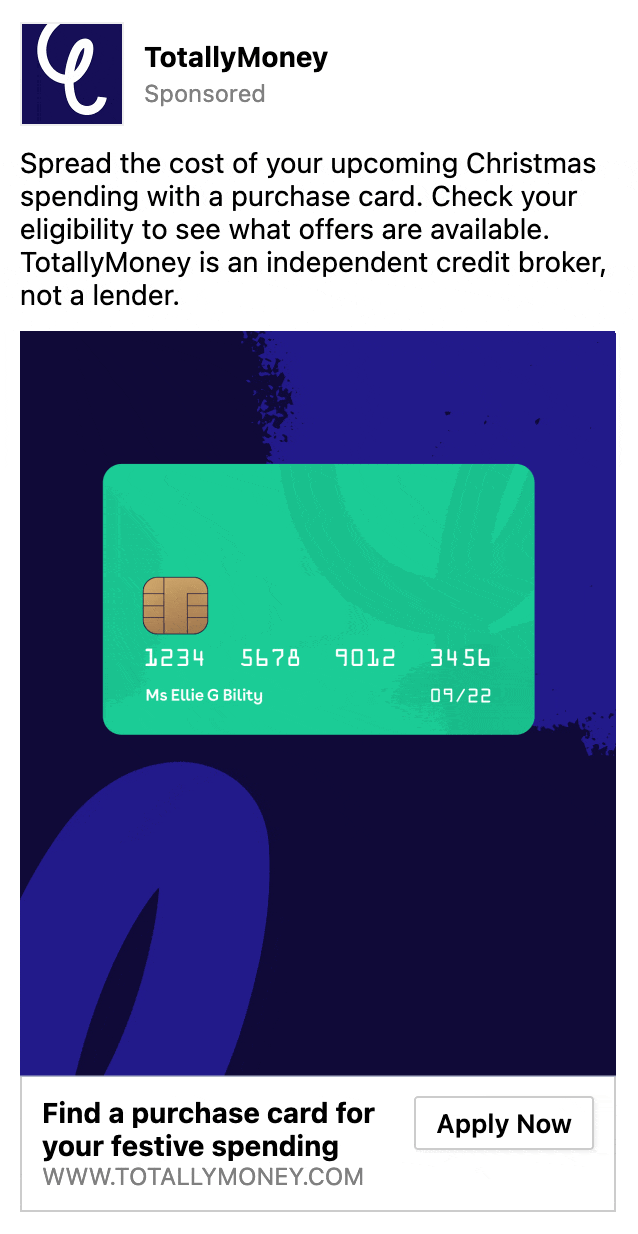 In the past, the design and marketing teams operated independently, and there was limited collaboration during the various stages of campaign development. I believed that by working together from the outset, we could streamline the process and reduce misunderstandings about ideas.
This project demonstrated to me that not only were my theories valid, but that combining our efforts to generate ideas resulted in much stronger outcomes. As a team, we were able to take these ideas even further than before.
Thank you for reading my case study!
Want to work with me? Feel free to contact me! Or just say hello on my social media.